Is Your Dog Always Licking?
(A recent study has shown that ELS (Excessive licking of surfaces) is a telltale sign of gut disease in dogs.)
If your dog seems obsessed with licking objects…and themselves, they could have ELS, which is usually accompanied by inflamed skin, hot spots, and or acral lick dermatitis.
Veterinarians usually tell owners they have an obsessive-compulsive habit like OCD, but holistic veterinarians have known for years that animals that lick like this almost always have GI issues.
A recent Canadian study showed the ELS is indeed very often health-related rather than behavioral and that almost 75% of dogs with ELS has some form of GI disease. (University of Montreal Veterinary Teaching Hospital) Identified disorders included:
*Eosinophilic and/or lymphoplasmacytic infiltration of the GI tract
*Delayed gastric emptying
*Irritable bowel syndrome
*Chronic pancreatitis
*Gastric foreign body
*Giardiasis (Giardia)
Hopefully, these findings will motivate more conventional veterinarians to evaluate dogs with ELS for potential GI conditions rather than labeling them as behavioral. Hopefully, any pet parents reading this will consider a diet change and some simple supplements to resolve any and all GI issues.
When I come across a dog with GI disease, I always come from a holistic perspective and do not recommend drugs unless giardia is present, and in that case, recommend treating the pet with Metronidazole.
In my experience, the overuse of antibiotics and corticosteroids in veterinary medicine is the root cause of many GI issues.  Either that or it's nutritional. And since most veterinarians only get a few hours of nutrition education in vet school, a change in diet is usually not even considered or is one of the last issues addressed.
Recommendations:
I highly recommend, whether your pet has GI disorder or not, that you feed a species-appropriate, non-GMO food that is either raw/paleo diet or if a kibble, one that contains the least amount of allergens and includes GUARANTEED live probiotics in it. Life's Abundance Grain-Free All Life Stages.
Or, better yet, I recommend a species-appropriate, anti-inflammatory diet.
Many people don't realize the healing modalities also available to them in the form of things such as herbal and essential oils in assisting to create a healthy gut. These can create LONG-TERM change, and also provide good long-term solutions to many syndromes that are diet-related. Canine Digestive Blend.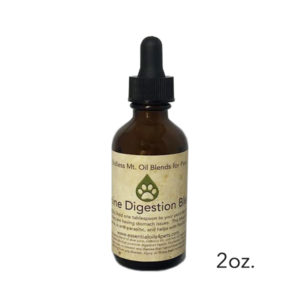 We also have digestive blends for cats and horses!