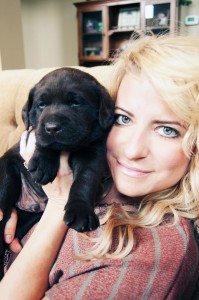 I've bred and shown Labradors for almost 30 years, and in that time, I have talked to thousands of pet owners. I've listened to story after story of disillusioned pet owners dealing with frustrating health conditions that have exhausted everything that veterinary medicine offers.
Fortunately, this frustration led me to explore holistic medicine 20 years ago. Not only did I find relief for my family and myself as a result, but I started applying what I was studying to my pets as well. Primarily I've concentrated my research on nutrition for dogs from food, herbs, and general nutrition. Now, I've extended that research to a broader spectrum of pets and animals.
Over the years, I discovered essential oils, a whole new modality for applying a holistic approach to animal health and well-being. After finding relief for my own health, I began to study how my pets could benefit from essential oils. Unfortunately, there isn't much right information out there, so I began to search out veterinarians who were using essential oils in their practices. I implemented what they had learned, formulated, and applied when using the oils.
I often find people get a little knowledge of essential oils from a multi-level marketing company distributor and then decide to experiment on their pets with essential oils. Not only can this be harmful if not diluted, mixed, and applied correctly, but you may not experience the benefits of essential oils if you do not know how to use them properly. So we have already done the work for you! There is no need to figure out what oil to use for what, how much to use each oil, and buy $500 vials of oils. We've developed this product line with holistic veterinarians who understand aromatherapy and how to apply essential oils to be species-appropriate.
After beginning to apply essential oils and formulating blends for my pets, I decided to address some of the top concerns that veterinarians see in their practices today. These include skin issues, ear issues, digestive issues, joint issues, and anxiety. Click on our products page to discover other newly added products to benefit you and your pet! Check back often as we continue to add more products!
Welcome to www.oliaforpets.com! Explore the world of essential oils for your pet. We want you and your pet to THRIVE!