Our Digestion Blend helps aid your pet with their digestion when they are having a hard time processing foods, are experiencing  an upset stomach, have foul breath, parasites (intestinal, bacterial), or a sensitive GI tract.  This formula consists of essential enzymes, soothing herbs, and ingredients that promote a healthy digestive system (that are not found in commercial dog foods).  It also helps keep them from passing gas, that can clear a room! It deodorizes your pet from the inside out! Can also be used as a Heartworm preventative on a daily basis.
Ingredients: A proprietary blend of cod liver oil, liquid chlorophyll, aloe juice, coconut oil, essential oils of peppermint, ginger, tarragon, lemongrass, fennel, and anise.
When used in conjunction with our Diatomaceous Earth, this is a wonderful parasite cleanse either alone or with the DE!
Directions:  Shake well. Add 10 drops for small animal (under 50 lbs), 20 drops for large animal (dog 50+ pounds), 2 x daily, either by mouth, or on food.  For horses, give 6 drops 2 x a day in the lip or feed. Start administration on a full moon, and give the mixture for 1-3 weeks, then rest. Increasing up to 20 drops (or more) twice a day may be necessary in certain difficult parasite situations. For cats, 2-3 drops 2 x a day. For birds and exotics, 1-2 drops, 2 x a day. If stool becomes loose, or appetite decreases, cut back on dosage and work up slowly.  Have a vet check stool sample after treatment to be sure animal is parasite free. May also be used once daily as a preventative.  Store in cool, dry place.
INTENDED FOR ANIMAL USE ONLY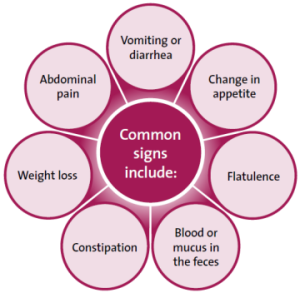 *Interesting fact about liquid chlorophyll: when going to dog shows, many handlers use it to "mask" the scent of a girl in heat so as not to distract the boys in the show ring (and some males have been known to be able to pick up that scent a mile away!) So imagine what it can do for entire body deodorizing! I even use it, myself!
Also, using liquid Chlorophyll is like getting a total blood transfusion.  I have literally kept pets alive on this alone when they were ailing… even with issues as serious as Lymes disease, kidney and liver failure!
DISCLAIMER: Ingestion of essential oils is only recommended if using a human grade essential oil, or one manufactured in a laboratory of the same kind they make pharmacueticals in. Which is such with the oils we select for our blends. Also, we don't have any oils in our blend that are not recommended for ingesting in either humans or pets. In fact, if you breakdown every single ingredient in this product, you can go to the drug store or whole food store and find each in a product deemed appropriate for ingesting for humans according to the FDA. Maybe not all in one blend like this, but each is usually and safely ingested. We NEVER encourage ingesting anything not approved or dangerous. The MLM companies may be ones to stay away from with their "__________ Bombs" and DIY recipes with all kinds of oils, not recommended for pets, and in LARGE quantities, enough to kill intestinal flora in any human! (and worse, in pets) This is why EM Oil blends exists, to promote SAFE usage of essential oils in pets because there is so much abuse by "oilers" without certifications or experience, playing doctor in their house, with no understanding of anatomy and physiology, safe oils usage, nor have any background as pet professionals to be able to recommend safe blends, dilution, and application. All our blends are used and have been recommend by veterinarians, and developed with their input, along with Aromatherapists and Holistic Pet Specialists.
Always store essential oil blends in a cool, dry place, and discard after one year if unused.
---
"I have been using the Flea/ Tick Blend, Dig-Ease and Muscle & Joint Formula on Monte.  While he's not a fan of sprays, Monte loves when I am rubbing his back, legs or belly and spritz the Flea/Tick Blend on him.  We are just starting to see a change and uptick (pun intended!) in fleas here in Florida, and I've noticed, with regular use, Monte is flea free!  The same can be said for the Muscle & Joint formula in that he still isn't a fan of the spray, but when combined with rubbing  his joints, I've noticed that his hips don't tighten up as much as they have been. The Digestion Blend has been the most interesting experience for us.  It comes in a dropper, and I will put a dropper of the blend on his food.  I tried to put the drops directly into his mouth, but he was definitely not a fan!  Once he had a few meals with the blend, I noticed that his unsavory breath was starting to get much better!  I won't lie…we did experience some other digestive issues which cleared up after a few meals with the blend.—Usula Zamora 
Thank God I found your website…Chanel's tummy has not rumbled since I put her on the canine supplement for her tummy…Her appetite is allot better as well….she also likes the taste….I am so glad to get her off of the PepcidAC & Infants GasX, since she has liver disease (Microvascular Dysplasia) She is on only holistic supplements for her MVD…I am just so pleased that this product is working for her tummy issues….."–Loretta Acierno