Much like our Anti-anxiety formula, Calm Puppy helps to relieve stress and help your pup relax. Use while traveling, in times of stress, or even before for nap time.  This formula is specifically formulated to be gentle enough for young puppies. You can apply it directly to the coat, the paws, and pet's bedding.  Especially great to diffuse while you are away if your pet suffers separation anxiety. At night time, simply drop into our cold water diffuser, and place near pet's bed or in the room where your pet sleeps. Take on trips to relief stress when riding in the car.
Ingredients: A proprietary blend of Lavender oil, Cedarwood bark oil, Vanilla absolute oil, Ocotea leaf oil, Lime rind oil, chamomile oil, Coconut oil, and Aloe vera gel.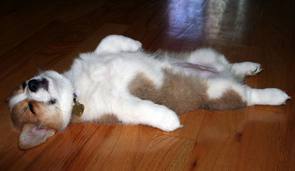 Always store essential oil blends in a cool, dry place, and discard after one year if unused.
---
"When we picked up our puppy from the breeder she was trembling. But when Donna applied the "Calm Puppy" blend to the pads of her feet, she relaxed in only 20 seconds!  Amazing!"
We brought a puppy home and began crate training. From the first night I used the Anti-Anxiety blend oil on her collar and paws. I wasn't sure if it was helping at first and forgot, about a week in, to rub her down before bed. She was a MESS barking crying and wining. I rubbed her down and she went right to sleep. Now she goes out one last time before bed and runs in on the couch and waits for me to rub her paws!! I think it makes a big difference!–Ashley
"Bought the "Calm Puppy" blend and LOVE IT !!!! Thank you …. we are getting our puppy from a breeder close by in Canada and can't wait to see the effect it will have on her! " –Patricia Vendette
I can't thank you enough for the Calm Puppy Blend I received in the mail yesterday. I sprayed it on our 8 week old puppy's bed last night, and for the first time in a week she didn't wake me up or poop in her pen. Today when she showed me how she escapes her pen in our kitchen by climbing up on to the crate and launching over the side of the pen, I removed the crate and placed a soft blanket in its place. I sprayed the blanket with the Calm Pupoy Blend, and Baby Bella, all 5 lbs 3 oz, fell asleep on the blanket within minutes! Baby Bella loves the Calm Puppy Blend!!–Chris Weisnel
 I am writing again to continue my praise for the Puppy Calming Blend which works wonders on Baby Bella, almost 9 week old Mini Goldendoodle. Since receiving the product, I have used it twice daily. In the morning I sprays it on her bed inside her large daytime pen, and at night i spray it on her bed in her night-time pen in our bedroom. She now sleeps through the night, wakes up between 3 & 4 to do her business, then falls back asleep until I wake her up after 6:30 am. This morning she was so comfortable sleeping, she was reluctant to wake up! The Puppy Calming Spray is a miraculous combination of essential oils that gives Baby Bella all the comfort and security she needs. Bravo for such a great product! Thanks again.–Carol