Use this blend on your dog before you go outside.  This blend smells AMAZING while keeping pests like fleas and ticks away!  Spay on dog bedding and clothing if desired.  Spritz yourself, too!  It will leave no oily residue on skin or clothing! No greasy feeling or staining of clothing!
Awarded "Fave Find of 2015" by Modern Dog Magazine!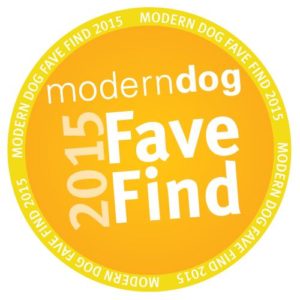 Directions: Shake well. Apply to coat, collar, or soak bandanna in the blend.  Also, spray bedding if needed. Use on a daily basis if your dog is outside often.
Ingredients: A proprietary blend of lavender oil, lemon oil, lemongrass oil,  patchouli oil, citronella oil, coconut oil, and aloe vera gel.
HOW IT WORKS–it melts the waxy outer covering of the flea's body and instantly kills them.  Same with ticks. If you use this in conjunction with our Diatomaceous Earth (the Flea/Tick "bundle"), the D.E. also penetrates the exoskeletons of fleas, ticks, and other flying insects like little shards of glass and kills them! 
Good for repelling flies and mosquitoes, too!
–And remember, mosquitoes are the deadliest bugs in the world, along with ticks, as far as transmitting life-threatening diseases!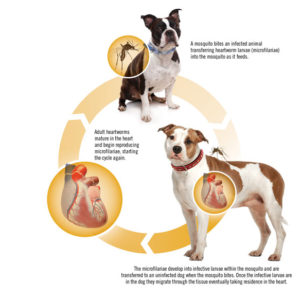 For extra protection, try our Flea and Tick bundle, including Diatomaceous Earth!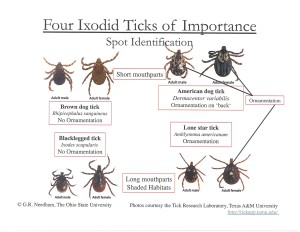 Always store essential oil blends in a cool, dry place, and discard after one year if unused.
---
"I have been using the Flea & Tick Blend, Digestion Blend and Pain Relief Blend on Monte. While he's not a fan of sprays, Monte loves when I am rubbing his back, legs or belly and spritz the Flea & Tick Blend on him. We are just starting to see a change and uptick (pun intended!) in fleas here in Florida, and I've noticed, with regular use, Monte is flea free! The same can be said for the Pain Relief Blend in that he still isn't a fan of the spray, but when combined with rubbing his joints, I've noticed that his hips don't tighten up as much as they have been. The Digestion Blend has been the most interesting experience for us. It comes in a dropper, and I will put a dropper of the blend on his food. I tried to put the drops directly into his mouth, but he was definitely not a fan! Once he had a few meals with the blend, I noticed that his unsavory breath was starting to get much better! I won't lie…we did experience some other digestive issues which cleared up after a few meals with the blend."—Usula Zamora
"I went into the show ring and everyone was being swarmed by "no see 'ems"…even the dogs were antsy.  I sprayed myself with this formula and I was the only one not bothered!" -Carol
I sprayed my dogs before heading to the show ring, and they leaned into the spray. When I spray them with harsh chemical bug repellents they roll on the ground trying to get them off…they hate them! They showed beautifully and, unlike the other dogs in the ring, my dog was bug-free and calm"  -Chris