Whether your pet has fatty tumors, malignant or benign tumors, or interdigital cysts, our Tumor Blend will help to repair cell damage and reverse abnormal cell growth.  This formula will strengthen the immune system and promote overall health, well being, and a longer lifespan.
Ingredients: A proprietary blend of Aloe Vera Gel, Coconut oil, Frankincense, Lavender, Lemon, Clove, Balsam Fir, and Myrrh essential oils.
Directions:  Shake well. Apply directly to the tumor, cyst, or skin tag 3 x a day until it has disappeared.
SEE THE EFFECTIVENESS OF THE INGREDIENTS IN THIS PRODUCT BELOW!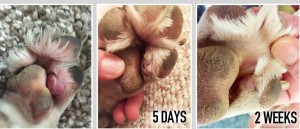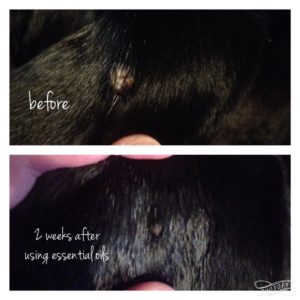 Always store essential oil blends in a cool, dry place, and discard after one year if unused.
Testimonials:
"My golden retriever had a small tumor growing on the side of her face. I used tumor blend and it shrunk the tumor to nothing."–Amanda Snyder
Thumbs up for tumor blend. My pug Lola had a tumor on her belly about the size of a half dollar. We used it 2-3 times a day. 
It took a couple of months but her tumor is gone. She now has a flat surface. Amazing product.
Thank you.–Lauria Egnell
Thank You so very much for taking care of my friend Stephanie Dubay. Her dog has had a tumor removed surgically twice and she purchased Tumor Blend from you to help this problem. She and her sister are both RN'S and they let me know that this is helping. I talk about your company and products to my co-workers and clients at the salon I work at all the time. Also thanks for sending me out the brochures. I have been giving them out. I wish I had known about you when my English Springer Spaniel was alive. He so could have benefited from your products. Again Thank You! –Karen Kohan 
"I'm a believer! Thank you for keeping our pets happy and healthy! These are our results (see below) after using the Tumor Formula for two weeks, three times a day! This was diagnosed by her vet as an abnormal cellular growth on her ear. The results are amazing!!–Brandi Ledit  (see picture above of the results!)