Use this calming, cooling, and healing shampoo on your pet to help relieve skin irritants, muscle pain, and anxiety. Also repels ticks, fleas, and any external parasites. This formula moisturizes the skin and coat, helps prevent excess shedding, and helps hair grow back that may have been lost due to allergies or other skin irritation. Use as often as needed.
***Can be used as a hypo-allergenic hand wash detergent for dog bedding***
Ingredients:  A proprietary blend of organic, irritant-free Castile soap, aloe vera gel, lavender oil, lemon oil, peppermint oil, lemongrass oil, cedarwood oil, eucalyptus oil, geranium oil.
Directions:  Shake well. Apply to wet coat, massage a liberal amount, let sit for 3 minutes (if desired), rinse, repeat.  This is so gentle that it can be used as often as desired.
*This recipe is not intended for felines.*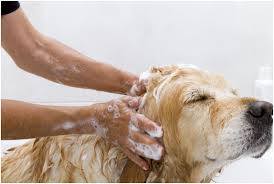 Always store essential oil blends in a cool, dry place, and discard after one year if unused.
---
"We bought it, used it and absolutely LOVE it! Lathers and rinses out extremely well. Love the fragrance and tingle!" – Patty Winchester
 To all my friends who sometimes have a "bit stinky" Lab: 
This is "Emma" …I was changing her collar this morning. I sniffed it to see if I should wash it before putting it away.  Everyone– I bath Emma with Endless Mt Oil Blends for Pets "All-Natural Pet Shampoo"… the collar still smelled good and Emma still smells good also …it's been about 4 weeks since her last bath 
❤️


I thought, I need to tell my friends!  –Lisa Bradley Kellett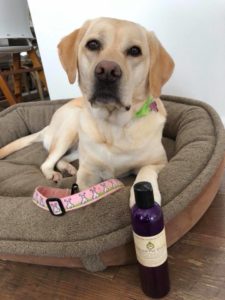 I purchased your Pet Shampoo and was totally surprised how it took out the tear stains on our dog, made his coat shine and he smells wonderful! I would highly recommend this to anyone. Thank you so much!
A testimonial you may offer on your site! Thank you for such an amazing product!—Gaby Tolman
This shampoo is amazing! My pups smelled so good and loved their bath.–Tiff Britt