Use this blend on your pet, and even yourself, before you go outside.  This blend smells delicious while keeping  flies and all crawling and flying insects away. Spay on pet bedding (or stall) and clothing if desired. It will leave no oily residue on skin or clothing!
GREAT FOR ALL LIVESTOCK, INCLUDING HORSES!
–And remember, mosquitoes and flies are the deadliest bugs in the world, along with ticks, as far as transmitting life-threatening diseases! So keep flies away!!
Directions:  Shake well.  Spray onto livestock's coat or onto a clean cloth and cover the entire body, avoiding eyes (but can dab "around" eyes). For horses, apply to ears, mane, and tail for extra coverage.
Ingredients: A proprietary blend of lavender oil, citrus oil, lemongrass oil, geranium oil, citronella oil, frankincense oil, patchouli oil, coconut oil, and aloe.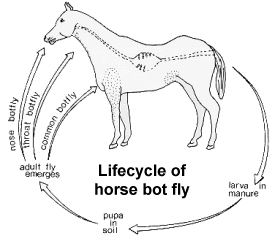 READ OUR BLOG POST ABOUT ESSENTIAL OILS AND HORSES!
Always store essential oil blends in a cool, dry place, and discard after one year if unused.