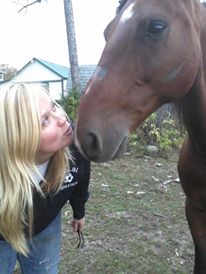 I remember, while working in horse stables during my young teen years, fly control was a major issue. Goodness knows how many chemicals I sprayed on those poor horses all those years.
Essential oils are PERFECT for horses, and next to dogs, one of the BEST animals for using almost ANY essential oil with, and they LOVE it!!!
Our All Natural Fly Spray is an essential for horses. AND it will add many other side benefits besides just insect repellent!
We have made this spray available in a larger , 16 oz spray bottle for ease of better/faster coverage. Or you can add a trigger spray to the bottle if you desire.
Horses are large, hardy animals, but just because they are big does not mean you need to use "more" essential oils! Nice, huh?
Here's some common ailments of horses that essential oils blends are perfect for!
JOINT, TENDON, AND MUSCLE SUPPORT:
Endless Mt. Oils Pain Relief Blend
BACK, SPINAL CONDITIONS:
Endless Mt. Oils' Pain Relief Blend
BEHAVIORAL CONDITIONS
Endless Mt. Oils Anti-Anxiety Blend
BONE CONDITIONS:
Endless MT. Oils Pain Relief Blend
CANCER SUPPORT:
Endless Mt. Oils Tumor Blend
COLIC:
Endless MT. Oils Digestion Blend
DIARRHEA:
Endless MT. Oils Digestion Blend
INSECT BITES:
Endless Mt. Oils All-natural Fly Spray
MUSCULAR CONDITIONS:
Endless Mt. Oils Pain Relief Blend
RAIN ROT:
Endless Mt. Oil Blend for Pets Equine Allergy Blend
Any and all wounds:
Endless Mt. Oil Blends for Pets Equine Wound Care