This blend will act as an antibiotic, anti-fungal, antiviral, anti-parasitic and anti-inflammatory. Will speed healing, prevent licking of the area, and reduce scarring.
Great for:  incisions (apply to stitched area after surgery), burns, insect bites, scratches, mange (ectopic), itchy/flaky skin, dry skin, cuts, puncture wounds, yeast infection, swelling (due to infection), will keep pet from scratching a wound or incision (it reduces the itchiness). Also kills RINGWORM.
AN ENTIRE FIRST AID KIT IN A BOTTLE!  (Minus the bandages)
Ingredients:  A proprietary blend of aloe vera gel, coconut oil, Vitamin E oil, and essential oils of lavender, patchouli, myrrh, melaleuca, and clove.
Directions:  Shake well. Use full dropper for large wounds, or apply needed amount of drops to saturate small wound. Dab with a clean cloth. Cover if needed.  Apply 3x  day until wound is healed. Will assist with speed of healing, prevent licking, and reduce scarring.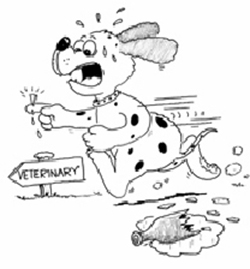 Always store essential oil blends in a cool, dry place, and discard after one year if unused.
One of the most BRILLIANT substitutes for the "Cone of Shame" is a cervical collar, available at any drugstore.  Your pet has comfort, complete range of movement, but cannot lick places they should not!!! (they come in black too, for dark dogs!!!)
"… thank you!! I also want to tell you the "Wound Care" Blend worked better than I expected. My dog's skin is almost perfect again. It smells wonderful, lol, when I opened the package both dogs came running to see what that great smell was. Now Izzy looks forward to me applying. Thank you for everything."–Sandra Renee
"I ordered this as a last resort option for my Cairn Terrier who has atopic dermatitis. She has been on medication and prednisone blend for months. However, her skin issues still haunted us. Surprisingly, this blend has done wonders in a couple of days. Her skin is almost 100% and that has not happened before. Also, she enjoys the smell and comes to me when I show her the bottle. Once I treat her she immediately calms and goes to rest. I am extremely grateful and believe in the power of oils. I will be purchasing the Anti-Anxiety blend next for my male Cairn. Thank you for this option I am ecstatic with her results and so far she has not needed the atopic med or prednisone. #thankful"–Sandra Zimmerman