Did you know that ear infections are now (and have been since 2012) the foremost non-life-threatening reason for a visit to the veterinarian's office? 
Our Ear Blend is great for alleviating itchy, irritated ears due to bacterial infections, yeast, parasites, or other issues.  Is your dog constantly itching their ears, or shaking their head?  Do they have black, smelly discharge in their ears? Have you tried the prescription medications only to have the issue worsen, or eventually have your dog not respond to the medications any longer?  This formula stops ear infections at the root cause, getting rid of irritation, and keeps ears clean. It works immediately and long-term, as it prevents the issues from returning. Some people use it once a week just as a preventative after the original infection or irritation is eradicated. The essential oils in this blend are anti-bacterial, anti-fungal, anti-viral, anti-parasitic and anti-inflammatory.
Ingredients: A proprietary blend of Tea Tree oil (Melaleuca), Peppermint oil, Lavender oil, Frankincense oil, Citrus oil, Clove oil, Coconut oil, and aloe. this formula is not intended for felines
Directions:  You will want to use a baby wipe and gently twist it  down into the ear canal, until it no longer comes out with brown on it. Then take a dropper-full of the Ear solution (shake well first), and drip it "around" the ear canal, then fold ear down and rub from outside to distribute the blend thoroughly inside the ear. Repeat 2 x a day for week, then continue with the directions on the bottle until the ear issue is totally gone. Then you can use it once a week as a preventative, if you want.
INTENDED FOR ANIMAL USE ONLY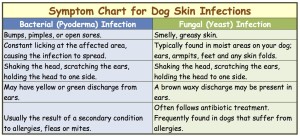 READ OUR BLOG ABOUT YEAST AND YOUR PET
READ OUR BLOG ABOUT EAR INFECTIONS
Diet: A grain-free diet is almost always helpful in combating chronic yeast infections. Grains contain natural sugars upon which yeasts can feed and multiply. In most mild cases, eliminating grains, legumes, GMO's and phytoestrogens and cleaning the ears of any built up debris will set your dog on a path to long-term ear health. A raw or natural, minimally processed diet can be very helpful in combating ear problems because it provides the natural (paleo/raw/species-appropriate), whole-food nutrition that the dog's immune system needs in order to function optimally. Removing toxic chemical preservatives and excessive gluten, by-products, GMO's starches, phytoestrogens and fillers can have a marvelous effect on most of the body, including the condition of the ears. Here are my suggestions:
Life's Abundance Grain-Free All Life Stages dog food
B.A.R.F. World, Raw/Paleo diet (Biologically Appropriate Raw Food)
Always store essential oil blends in a cool, dry place, and discard after one year if unused.
---
"After using this twice on my Gracy, she no longer has an ear infection. This is a lot cheaper than going to the Vet."–Bev Hass Goebel
"My dog Jenny is a rescue from Carbon County in PA. She is a 55 lb lab mix with red legs, mystery donor! When I adopted her they told me she had ear issues. They create a lot of dirt. I tried many products, but most of them put too much liquid in the ear canal and she cannot shake enough out. They are very scarred. I found your products through Modern Dog magazine. We have been using canine ear blend for a year with fantastic results. Her ears still need to be cleaned daily, but they are pink healthy looking ears. They smell very nice and your product has relieved her itching and discomfort. I had Jenny to visit the vet yesterday for routine things, and the vet commented to me how wonderful her ears look. Thank you, The perfect product for us has made both our lives much more comfortable!!– Lorene Wolf & Jenny Wolf 
Hi Donna, Just wanted to tell you how awesome your ear formula is! Maggie had a nasty ear come on quite fast and the ear drops have it under control just after 4 days of using it. I will continue as directed on the bottle. Thank you so much!!!—Uleta Clark 
"You have saved me from spending time and money at the vet for ear and hot spot treatments that may or may not have worked, and may have just continued the cycle of infections! Thank you so much. Jasper, the 'hot spot dog', was 90% better after 2 days and 100% better after a week of using the spray 2 or 3 times a day. I did not have to shave his hair, which would have been most of his back, and he likes the spray. It has been amazing. Luna's ears are much better. She did not like the ear drops (from the vet). The ear is much better. Thank you so much…"
"(Re: 'Ear formula') This absolutely works. Our 'Hobie's' ears are healthy and have stayed that way!"–Gail Andrews Whitman 
"I just love these products!!!!!  My dog's ears have never been better.  We took in this dog from the pound.  We never knew it would be so costly.  We've been to the vet numerous times and many $$$$ later her ears were still bad.  We were initially told she had mites, then after treatment that did nothing to improve her ears were given different meds to use; still no improvement.  Finally, I went to another vet who said it was not mites.  They gave two more medications to use; no change.  Over the years nothing helped, not prescriptions or over the counter treatments.  And my poor dog,' Camille' was in such pain and always scurrying around on the carpet until she was so out of breath it was all she could do to get to her water bowl.  Along with the ears, I noticed almost immediately after taking her in that she was always scraping her chin on the rug or anything she could find.  She would also bite at her paws until they were raw.  I just gave up.  I cared for her ears at home the best I could and tried to keep them clean, shaved and keep her comfortable. 
After using your products for ears and for yeast hot spots, ("Ear Formula" and "Allergy Formula") she is doing much better.  You can almost see the relief on her little face.  Her ears are cleaner than they have ever been, the smell is almost gone.  One ear even opened back up (having been swollen from ongoing ear infections), and the swelling is gone! I am hopeful for the other ear to do the same.  I clean and use the drops two times a week.  I may go back to every day just to see if that will get rid of it altogether.  I also use the Allergy Formula on her paws, on her anus and vulva, which she rubs on the floor, and under her chin.  When I do this regularly, she does not scratch her chin, bite her paws or rub her butt on the carpet. This is the only thing that has ever worked for us.  I am so glad to see Camille doing and feeling so much better.  Thank you!"–Bonne Briscoe