Does your pet hate trips to the vet?  Thunderstorms?  Does your pet suffer from separation anxiety?  Use this spray on your pet's coat and the pads of their feet to help them naturally relax in situations that may cause stress. Also, simply put into our cold water diffuser and place near the area where the pet sleeps, or in the room where pet dwells while you are away. Works immediately, and lasts for hours.
Ingredients: A proprietary blend of Lavender oil, Cedarwood oil, Lemon, Patchouli, water.
Directions:  Shake well.  Apply to coat of pet, and to pads of feet (vita flex points), and to bedding.  Use as often and as liberally as desired.
THIS BLEND IS INTENDED FOR TOPICAL USE, BUT CAN ALSO BE DIFFUSED.
READ OUR BLOG ON ANXIETY AND PETS
Always store essential oil blends in a cool, dry place, and discard after one year if unused.
---
I just wanted to tell you what a blessing it has been since we tried the Anti-Anxiety blend.  Our11-year-oldd Rhodesian/Lab mix is terrified of thunder. We started using it several months ago,  because here in the Panhandle of Florida we have storms all year.
The oil has been a Godsend! She will actually go to where we keep it most times when she starts hearing it.  It's kind of my storm alert because she hears it before I do.  She often lays quietly or even FALLS ASLEEP during storms with the spray, instead of clamoring to get upon the couch to sit on my lap like the shih tzu (who could care less!)Thank you so much for figuring all this out.  I'm sending you a picture of her since it started thundering,  ironically,  while I was typing this email! It is such a blessing to make her last months comfortable as she has osteoblastoma in her jaw and will be going to see her two lab brothers very soon.
Sincerely,
Linda Hester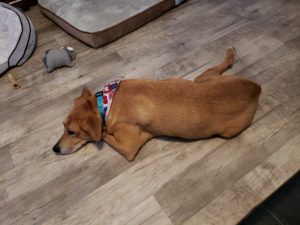 "Love the Anti -Anxiety Blend! My 6-month-old pup didn't like car rides, so I worked on training him to slowly get him used to it. Then I bought the spray and wow!!! He just relaxed and improved. Now he runs to the van and is excited to go for a ride! Thanks!‬"  -Shelly Weihert"I love the Anxiety Blend Spray and use it on my Toy Schnauzer in between baths. She loves it so much that she'll just stand still while I spray her."–Candy Pace Feathers
"At the end of December, we drove (our dog Brie) from Chicago to Scottsdale for the winter. She panted for the first 7 hours. I sprayed her with the Anti-Anxiety formula and she was good at the hotel where we stopped the first night. (First night ever in a hotel!) and for the next 20 hours in the car. I am so pleased you blended these oils for pets. She is doing so well. She will be 2 years old on the 28th and is a joy to me every day and is my constant companion. It made me sad to see her suffer." -Paisley Stitt
"In August of 2015 my 3-year-old Boxer girl, Lillee lost her sister, Daizee (my 6-year-old Boxer) to cancer. Lillee became very nervous and anxious as she looked up to Daizee as her protector and for security. After discovering essential oils for pets I wanted to try the anti-anxiety blend to see if this would help her. I must say THIS STUFF WORKS. I diffuse it, spray it on her bedding, blankets, her coat and on her pads. I used it for New Year's Eve as well. This was the test (fireworks) I diffused it to keep her calm. I also sprayed her collar. She did great! The fireworks didn't seem to bother her and she was calm. I highly recommend this product if you have a pup that is anxious. 5 stars! Bonus, it smells fantastic!" -Bree
 "Our boxer-mix had her first relaxed car trip in her 3 years with us the other day. Yeah, Anti-Anxiety blend!! She deserves this peace." -Teresa Thorburn  (pic below!)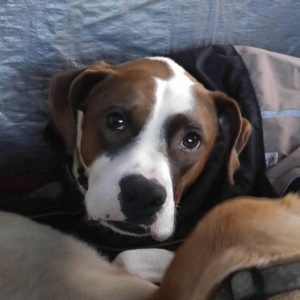 "I received the package today (Anti-Anxiety Blend). Thank you very much. It is early yet, but I want to share something with you. We have used the products on one of our labs. Now for 2 nights I have used the diffuser with the anti-anxiety blend in the area where our  dogs sleep  in our finished lower level of our home.
We have an EML dog as well as another English Lab and an English/American Field lab mix. That dog is a nerve ending. Hyper alert, a good boy but always ready to go. He probably would have ended up in a shelter with another owner. Anyway, after 2 nights we are seeing a difference in this dog. I noticed it but I asked my husband what he thought. He does not believe in wo-wo stuff!
He said there is a difference today. He is still himself but dialed back 25%. Not watching every move,  we make . When we took them outside,  he stayed closer and just was calmer.  I will check back with you in a week or so, but I am very happy with what we are seeing so far, and I love the smell. Thank you again.– Sheron