COLD WATER DIFFUSER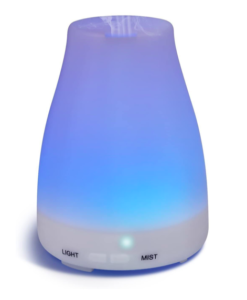 PORTABLE. Smaller sized essential oil diffuser (that packs the punch of a larger diffuser!) with LED rotating color lighting. Use for aromatherapy on the go. Lights can be turned off if you wish. Will run 4-8 hours.

PERSONALIZED AROMATHERAPY. Promote a healthy fragrant environment in your personal area.

RUNS SILENTLY. Essential oil diffuser runs a silent fan that broadcasts a fragrant aroma scent using your favorite essential oils.

Take 1 tablespoon of our essential oil blends (like our Respiratory Blend), add to the water chamber, then fill to water line with clean water. Press power button. Diffuse all day long and night in area where pet spends the most time!!!
▶ 100ML MULTIFUNCTIONAL PORTABLE DIFFUSER– can be used as Aromatherapy Diffuser, Humidifier or Night-light, You can bring it on your trip with the portable design. There are many colors and rotating colors chosen to create a nice ambience in your bedroom at night.

▶SIMPLE AND HUMANIZED OPERATION –The diffuser shuts off automatically when the water/oil level is too low or time is up,which can ensures safety and peace of mind .Easy to set up and all the functions are simple to operate,even a child could figure it out.

▶ADJUSTABLE MIST MODES AND STEADY MIST–It runs 3 hours in continuous mode, or over 6 hours in intermittent mode (30 seconds on, 30 seconds off). HOMEWEEKS ultrasonic mist humidifier gives out ultra fine and smooth mist which can humidify your living space and moisten dry skin. It also helps you breathe better when your are sleeping with air conditioner on.

▶PERFECTLY RELEASE YOUR FATIGUE–Put the essential oil inside,This essential oil diffuser fills the space with a lovely fragrance that can uplift spirits and relieve stress from stressful and tired day, perfect for burying stubborn smoking and pet odors, help to get peaceful sleep surrounded by the aromatic fragrance.
***If you already have a cold air diffuser at home with a water chamber, add 1 tbsp of the essential oils blend (be sure to shake before adding), put in diffuser, fill to water line with clean filtered or spring water.