So who is diffusing "Anti-Anxiety" Blend around their pets besides me? Groomers, Veterinarians, shelters and rescues, foster homes, boarding facilities, and breeding kennels and those sharing their home with anxious animals of all sorts, and even people on long road trips are doing it!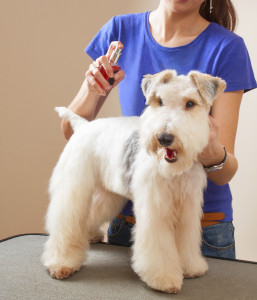 I love it when I get an email stating how impressed someone was with how their dogs rode in the car for thousands of miles – without their typical stress-filled antics, or panting (a sign of stress)!  SUPER! Its even great for show handlers who must travel all the time, and the dogs must spend a lot of time in kennels on their trucks during shows.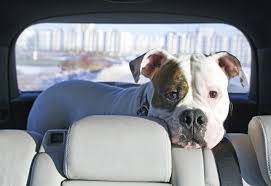 I just have to share a little bit of their words – paraphrasing just slightly (a testimony)…"My friend and I just returned from a 6 day trip (1400 miles round-trip)…Two of the hounds prefer to whine and pace when they ride in the car, and the third greyhound is quite storm-phobic.  I was amazed by the dogs' reaction when my friend diffused Anti-Anxiety in the car!  We had three calm dogs for nearly the entire drive, including during the drive through a torrential downpour."
 I've also had people who were transporting pups to their new homes say, over and over, how the pup slept the whole way home in the car AND slept through the night from day one!!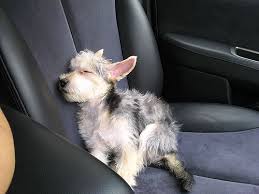 I know the stress involved in driving with an animal that is not exactly handling a car ride well. This happens many times when a rescue dog is not use to traveling, or if a dog is being transported to the vet or groomer, and finds it to be an anxious experience.
Animal professionals, such as groomers, are finding that dogs bark less, and are easier to groom – reducing the stress of the animal and the groomer!  Owner's pick up dogs that had essential oils diffused around (or were spritzed with them) while grooming, and wonder what wonderful scent is permeated through their dog's coat!  Essential oils can be used instead of toxic and nasty "doggy perfumes" – with health benefits instead of health detriments.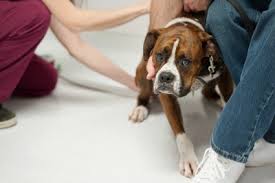 At the recent New England Pet Expo, we had several people approach our booth, and many asked us to spritz their dogs with "Anti-Anxiety" and in a half hour they returned to our booth saying, "You would not believe the difference, I need a bottle of that!!"  Many of them had rescue dogs.
Many people contact me about rescue dogs, specifically.  This is one the groups of pets that respond the BEST, sometimes, to "Anti-Anxiety" blend…and people have been SO thankful for it.  Many times, rescue dogs not only have not received proper socialization, but may have experienced neglect, abuse, or crazy long transportation from one shelter to another…even from one state to another.  So many of them respond so well to this blend.
At a vet clinic, I would definitely recommend you diffuse routinely for the nervous hospitalized patients.  Emotionally, these animals are just so much more stable and balanced if you are diffusing "Anxiety Blend" .  Everything seems easier and less stressful, and that is what "Anti-Anxiety" blend is all about.
Experience this for yourself!!